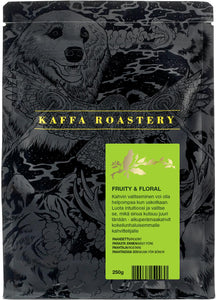 100% El Salvador, Calzontes Arriba.
VARIETALS: Red Bourbon
PROCESSING: Natural

ALTITUDE: 1300-1400 m 
FRUITY & FLORAL
Taste notes: macerated cherry, plum, vanilla and cacao with a sweet spice rum finish.
Finca La Reforma is owned and managed by the Alvarez Díaz family, and it has been in the family since the 1890's. This lot has been prepared under high-quality standards set by El Borbollon mill which has more than a hundred years of experience growing and exporting coffees within the family.
Every coffee cherry conforming this lot had to meet a strict ripeness level and were floated prior to slow-drying them both in clay patios or raised beds for about 19 days on average.
By floating the cherries only the best quality cherries and Preserve a clean process in the following steps of the drying stages, where we keep removing manually those beans that are not up to the standards we look for high quality coffees.