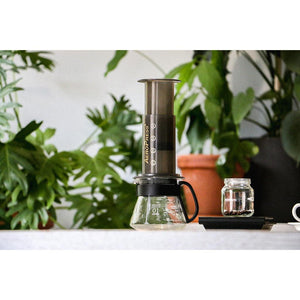 A trusty companion for home or on the road. Aeropress is the handiest of ways to brew one large or two smaller cups at once (250ml)
The coffee grinds and hot water are steeped in the cylinder for a bout a minute and then pressed down with the plunger part, through the filter paper. In it's simplicity, this brewing method has inspired many variations and the end result is pleasing to any beginner or enthusiast. Try the "reverse" method or play around with grind sizes, time and coffee and water quantities. The short brewing time that is typical for Aeropress ensures a clean cup.
Due to it's small size and light weight, Aeropress travels anywhere, and all you need to brew is a filter paper, hot water and coffee grinds. Ever brewed a speciality coffee cup onboard a plane? Now you could!
This package includes a pack of filters, that are also sold separately. The whole thing is machine washable and easy to clean.