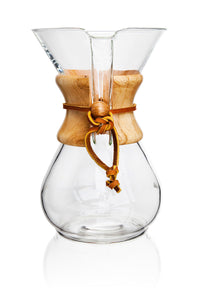 A timeless piece of German design.
Chemex is a true must-have for every coffee enthusiast. It's a sleek and stylish, borderline meditative way of manually brewing coffee.
The unique design is perfectly at home in everyday use as well as on special occasions. Sizes go from 3 to 10 cups, but with the larger carafes you can also brew fewer cups than the full capacity. The glass part is machine washable and the wooden handle easily removable.
With this method it takes about 4-6 minutes to brew. We recommend 6-7g of coffee for each 100ml of hot water.
Available in:
3cup 450ml
6cup 900ml
10cup 1.4L