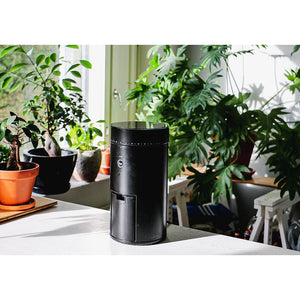 Wilfa Svart Uniform is the Tesla of home grinders.
This grinder is easy to use with a simple on-off button. The durable form is made out of aluminium and steel and the coffee container is made out of stainless steel. the 58mm wide flat burr is made in Italy from stainless steel. The grinding can be adjusted with 41 different grind sizes, which ensures the perfect grind for any method.
This grinder also comes with a Svart UNI scale that mesures precisely with a 0,1 gram accuracy. It is equipped with a LED screen and Bluethooth connection and works with the Wilfa SVART application that helps to determine the perfect proportions of coffee and water.